Branding strategies that work for small businesses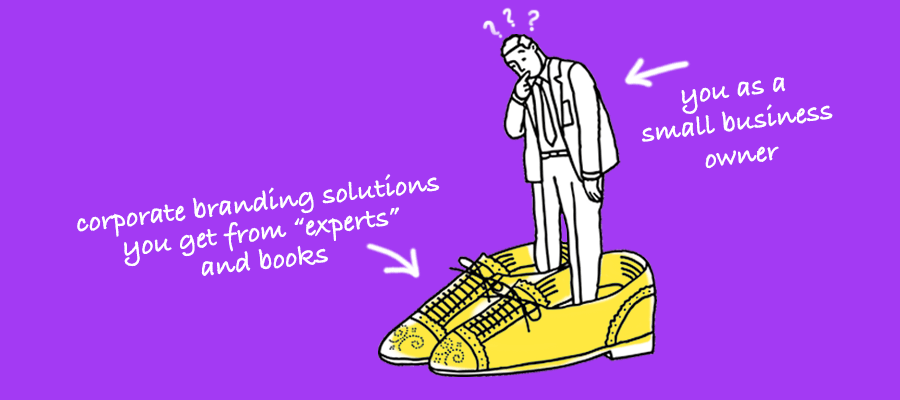 Are you running a corporation similar to General Motors, Apple or McDonalds?
If you're not, then the branding and marketing "solutions" you're getting from the "experts" and books will not work for your small business. Because those "solutions" are not relevant to small businesses. Period.
In fact, if you try to implement the "genius" instructions that are just explaining how those corporations came to be what they are today, will only "help" you to lose your business. Because someone else with the right branding idea will take over your market.
Not being authentic will not help to build a brand.
The branding strategy for a small business must align with these two Small Business Realities:
1 – The priority for a small business is sales… and fast sales
2 – Small businesses have small budgets
Does getting more customers sound good to you?
Have you tried so hard to get attention, but you're not happy with the results? Perhaps you're not getting enough customers, or not enough people remember your brand. Most likely you don't have enough loyal customers who are willing to pay more just because they have "feelings – emotions" for your brand.
Let us help you to turn your marketing communication strategy upside down. Let us find out what you're missing. Let us unleash the "hidden" potential for your business. We'll develop solutions that will get you the results.
Questions are the doors to the truth
Is your brand one of these?
"First" or "Best" or Most" or "Biggest"… etc. you got the idea.
If your brand is not one of these than there's work to do in positioning your brand.
Many of the marketing problems are caused by lack of the right positioning idea. We can help you to get your place in the consumer's mind. We can help you stay there.
In the age of abundance of products and services and in an over-communicated society, what used to work well doesn't work any more. We develop brand positioning concepts and communication strategies that will help your brand to become relevant in the New World. Your brand will connect with customers. No matter you're running a local, statewide or nationwide company, you need to have a brand that stands for something.
The emotional bond between your brand and consumer is the key.
Would you like that key to be given to you?
Make your competitors uncomfortable.

Get your branding process start today!

Services:
Branding
Get Customers
Small Business Solutions
Direct-Mail
Printing Prices